A Historic Proposal for Waubeka Building in Ozaukee County
Image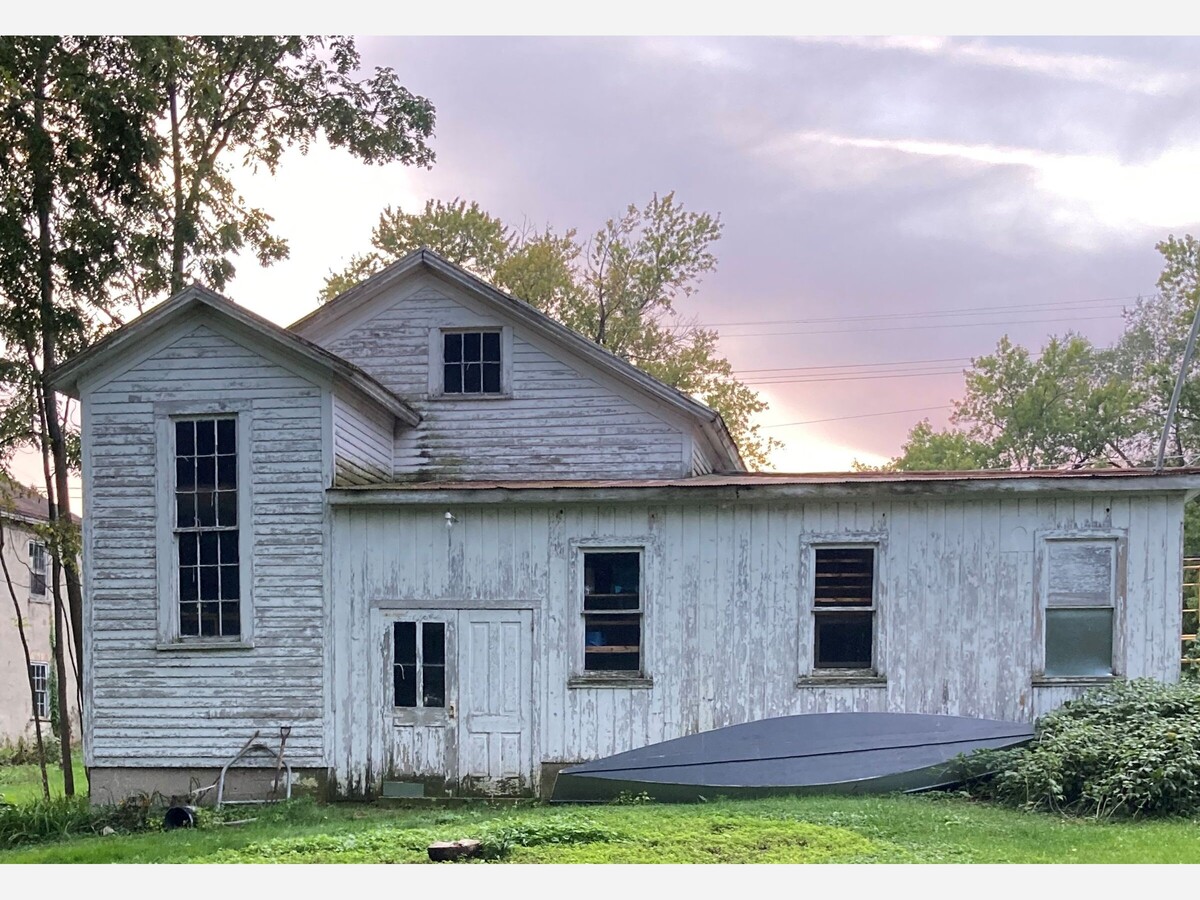 8/4/2022
Fredonia's Jacqui Fulcomer is leading the charge to preserve Waubeka's buildings with the creation of a Historic District
Jacqui Fulcomer is known for growing things. Her and her partner, Dan Bertram, own Willoway Farm in Fredonia, which began as a traditional produce CSA (Community Supported Agriculture) operation and evolved to include Jacqui's Waggle Dance Flowers, a flower CSA that offers a variety of weekly bouquets throughout the growing season, as well as a number of opportunities on their farm, including weddings, photo and painting sessions, workshops, and even camping. More recently, though, Jacqui has been wo
rking on growing something entirely new: a passion for preserving the Village of Waubeka. And, just like everything else J
acqui grows, she really wants to share it with everyone.
Given Jacqui's interest in Waubeka, one would think she grew up here, but she is in fact from New Jersey. She met Dan in Whitefish, Montana while they were both employed at the same restaurant, and the two quickly discovered a common love of nature and the outdoors. After several years of working on various farms and learning about sustainable agriculture, the couple found the farm of their dreams while visiting Dan's family, who happen to reside in Fredonia, and the two have been growing their farm and their family since 2006.
Like many of the communities in Ozaukee, Fredonia houses a couple of unincorporated villages, and it didn't take long for Jacqui to discover and fall in love with Waubeka: a quaint and often overlooked area of Ozaukee with a number of charming historic cream city brick, frame, and field stone structures, intersected by the Milwaukee River. Waubeka's known claim to fame is being the birthplace of Flag Day. Each year on the second Sunday of June, thousands of people visit the historic Stony Hill School, where a young teacher named Bernard J. Cigrand started the first Flag Day celebration, and attend the Flag Day parade down Waubeka's main street. However, as Jacqui learned, the Stony Hill School and the story of Flag Day are not the whole of Waubeka's history or appeal.
Waubeka was a very industrial town in the mid to late 1800's, according to an article in the Port Pilot from 1976. The community had a doctor, dentist, general store, two tailor shops, a drug store, two cigar shops, a saw mill, a casket shop, a slaughterhouse and meat market, saloons, a large mill used for feed and the manufacturing of flour, and a button factory which, prior, was a furniture shop run by a Mr. Kendall (a box flume from the mill supplied water power for running the machinery). There were three blacksmith shops, a millinery shop, a pump factory, a cooper shop that made wooden barrels and cisterns, and a photograph gallery operated by a Miss Paulus. Perhaps most notably, there was the Klessig Cheese Factory and the Cooley Cheese Box Factory, which employed a large number of young men and boys in the community. Then, in the 1870's, the railroad was routed through the east side of Fredonia, causing Waubeka's decline.
While Cedarburg and Port Washington are considered the historic areas of Ozaukee County, their buildings often needed to undergo extensive renovation to unearth their original look after decades of modernization. Waubeka, meanwhile, has essentially been frozen in time, with many of its structures unchanged from its industrial heyday. Unfortunately, not all of the structures have weathered time well; without a collaborative effort to preserve them, Waubeka could easily lose its quaint and authentic character.
In 2018, the Klessig Cheese Factory was for sale and Jacqui and Dan, along with Dan's brother, Greg, and a few of their friends, formed the Klessig Riverside Group and purchased the property with the hope of restoring the historical integrity of the building and kickstarting the preservation of Waubeka. The more research Jacqui did on the property, the more enamored she became of Waubeka's history, and the more determined she became to save it.
"I have grown quite fond of the Waubeka history and admire its founders," said Jacqui. "Dan and I, and our friends, find the properties in Waubeka charming and want to see it flourish for generations to come."
When the neighboring Bidinger Blacksmith House became available, another group called the Bidingers Haus, LLC, also consisting of Jacqui, Dan, Greg, and some friends, was formed. The trouble is, both structures are near the Milwaukee River and considered to be in a flood plain; therefore, there is a cap on the amount of money that can be invested into the structures – basically, enough to stabilize them, but not enough to restore them. However, should the area be named a State Historic District and the buildings listed in the district, the cap is removed. Furthermore, buildings in a State Historic District are eligible for state and federal income tax credits for rehabilitation, as well as for federal grants and the use of the state's Historic Building Code, which may help to facilitate the rehabilitation.
Jacqui and Dan raised some funds by selling Christmas trees the past two winters on their properties in Waubeka and were able to hire Preserve, LLC, a historic preservation consulting firm, to help begin the process, which consists of identifying which structures are recommended to be included in the district and putting together a step-by-step plan, which begins with getting the community on board. To that end, Jacqui has arranged a public meeting at Boots Q 'n Boogie (the former Waubeka Fire Hall) on Wednesday, August 17th from 5-7 p.m. to size up interest. Preserve, LLC will be present at the meeting, as well as Jason Tish, the Preservation Education Coordinator from the Wisconsin Historical Registration Office, to present the proposed district and to answer any questions from members of the community.
Some members of the community have already reached out to help. Local artist, Katie Musloff, donated a drawing based on a photo from June 7, 1895, of the Singer Society's 25th anniversary parade, a primarily German glee club that built the Singers Hall in Waubeka in 1871, held song festivals, and even established a German theatre program in the community. Some of the notable members were Julius Klessig, the Founder of Klessig Cheese Factory, as well as several other Klessig family members, M.T. Neuens, and Nicholas Cigrand, the father of Bernard Cigrand – names that are familiar to anyone who resides in the community.
Should there be enough interest, the next step will be to create a non-profit Waubeka Historic District Support Association, which will make it easier to raise the funds needed to obtain the listing on the State Register. Creating a non-profit, Jacqui estimates, will cost around $900, while getting the historic district can cost over $20,000. To help defray the cost of the meeting, Jacqui will be selling flowers at the event. For anyone who would like to support the project, but cannot attend the meeting, Jacqui invites them to purchase flowers ahead of the event for pick up at the Klessig Cheese Factory porch (N5412 Cigrand Dr.); any flowers that are not picked up will be delivered to Forest Haven Assisted Living in Fredonia for their residents to enjoy.
For more information about the Waubeka Historic District or to purchase flowers, contact Jacqui at klessigriversidegroup@gmail.com. To learn more about the State Register of Historic Places, visit https://www.WisconsinHistory.org/Records/Article/CS4330. To learn more about Waubeka's historic buildings, walk the Chief Waubeka Historical Trail created by the National Flag Day Foundation.